Flaminia "militare" Road
Segment 2
Place TREBBIO (BRINTUM) to POGGIO CASTELLUCCIO

In this segment we find two important historical evidences of the lay out of the  Flaminia "militare" road.
Shortly before the Pieve di San Giovanni in Petroio, along a footpath clearly visible, we can identify an array of square blocks on either side of the same path that they delimit the width to 240 cm compatible with the same width that is found in the forest beyond the Apennines.
At Pieve we are forced to make a long ride back to Hwy 65 N, bypass the new reservoir of Bilancino. Just below the artificial lake built recently (1998) excavations have revealed an ancient bridge made of 9 arches of unequivocal Roman origin.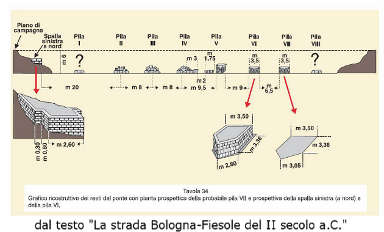 This finding enhances the lay out of the route studied by two researchers – Cesare Agostini and Franco Santi – as of 1979.
From the north bank of the lake begins the climb to the Futa pass and you lose the track because of the soil is unstable.
The  Flaminia "militare" road is to be found again in the woods behind the area of Monte di Fò near Monte Poggione. Here, for a long stretch, you see an ancient roman "basolato" made of local stone in perfect conditions restored several times. Just beyond, the ancient medieval road overlaps the roman path that continues until near the Futa pass.
From this point the Flaminia "militare" road ventures, almost straight, climbing towards the crest the watershed between the rivers Setta and Savena, then reaches the level of 1.100 m at Poggio Castelluccio always evidenced by sections of the ancient roman "basolato" more or less disconnected.